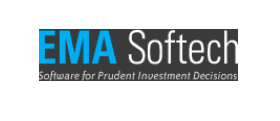 Robert Harrell Incorporated and Empirical Modeling & Analytics, Inc (EMA Softech) have been partnering for over 22 years to meet our clients' technology and data aggregation needs.. The RHI/EMA Softech relationship is not merely a consumer/vendor relationship. RHI and EMA Softech have a firm agreement to ensure the interests of the organizations remain closely aligned.
This arrangement has allowed RHI to bring the technology, custom data aggregation, and top academic minds to our client relationship as needed. It is a relationship in which each organization is truly operating within its respective field of expertise, while closely integrated with each other. For example, the responsibility for custom technology resides with EMA Softech, and all investment-related compliance and recommendations are the responsibility of RHI. EMA Softech enables our firm to provide sophisticated solutions and rigorously examined information to our clients.
Charles Gabriel MBA
EMA Softech President and Head of Research & Reporting
Mr. Gabriel has over 20 years of experience in the investment consulting industry. He was Head of Research at Robert Harrell Incorporated from 1991-1995. His primary focuses have been performance measurement and risk attribution, manager searches, and the coordination of new research with client needs. He earned his B.A. from the University of Texas at Austin and a M.S. in accounting and finance from the University of Texas at Dallas.
Steve Ellett CFA, CPA
EMA Softech Research Analyst and Investment Manager Searches
Mr. Ellett conducts manager searches, quantitative analysis on investment managers, derivative reporting including notional exposure, and counter-party credit reporting.
Mark Krueger MBA
EMA Softech Analyst and Mathematician
Mr. Krueger researches and develops quantitative tools used for financial performance analysis.
Jerry Kelso MBA
EMA Chief Technologist
Mr. Kelso joined EMA in 2001 as the primary technical manager focused on rapid custom software development and project analysis. Prior to joining the company, Mr. Kelso worked at Bayer Diagnostics in field engineering and Lucent Technologies as an application developer. He has a B.S. in Electronics Engineering Technology from DeVry University and a Masters degree in Business Administration from the University of Texas, Dallas.
Beverly Shealy
EMA Director of Network Security
Ms. Shealy joined EMA in 2005 as a software developer. Prior to joining EMA, she worked for Sprint as a software engineer. She earned her B.S. in Computer Information Systems from DeVry University and a Master's degree in Business Administration from Dallas Baptist University. Recently, Ms. Shealy has focused on computer and network security. She has obtained her CEH (Certified Ethical Hacker) and CPT (Certified Penetration Tester) certifications. Currently, she is working towards earning her GSSP (GIAC Secure Software Programmer) certification.
David Geddie
EMA Technologist
Mr. Geddie conducts software, hardware, and network systems analysis and support.